Consultancy Services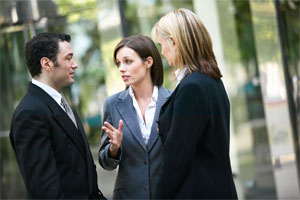 Through its vast experience in the telecommunications sector, together with the support from its Principals and Business Partners, CiG Technologies is well positioned to provide Consultancy on System Design and Engineering Services to its clients.

CiG Technologies will look into the clients' technical needs and propose practical solutions. Our team will carry out every phase of the project from the planning to implementation, undertaking project feasibility studies, comprehensive project analysis, cost estimation, project execution, installation, testing and commissioning on turnkey basis.
Our clients can depend on our team entirely, be it CiG personnel or our principal experts from all over the world to assist them in system integration and to custom design a combination of system equipment that will suit their particular requirement. We can provide them with an optimum multi-vendor solution, which ensures maximum cost efficiency, reliability and top performance.
We also believe in providing full and continuous support in terms of maintenance and repair. We have first line support team, which is promptly available whenever the need arises. For optimum performance of our integrated system, we offer a complete after-sale-training program. Our clients will have the opportunity to familiarize themselves with their newly installed system, from basic usage to detailed servicing work.
CiG Technologies offers Full Turnkey Wireless Network Design services for GSM/ PCN/ CDMA/ WCDMA/ TETRA/ SMR/ PMR/ WLL/ WLAN network. This includes:
RF Planning & Design for Indoor & Outdoor Solutions
Frequency Planning and interference matrix generation
Design of BTS stations including rooftop design, antenna selection/placement
Testing of possible BTS locations by setting up dummy transmitter to check the coverage area and possible interference problems and/or ?hotspot' area
Other RF Network Planning Services
Integration and commissioning of various wireless network components.
In-building Coverage Design & Implementation
Transmission Planning /LOS survey for BTS backhaul
CiG Technologies offers Wireless Network Optimization and Wireless Network Benchmarking, these includes:
Wireless Network Interference Identification
Performance Engineering Services
Drive Testing & Analysis
Capacity Planning
Periodically Network Benchmarking and Performance monitoring
Full Key Performance Index (KPI) monitoring and reporting
Regulatory benchmarking, network data collection, analysis and detailed reporting
Competitive network quality & performance audit